Placing emphasis upon sound academic education and the preparation of each individual for college and for life, the School balances exposure to new ideas and the challenge of analytic and creative thinking with concentration on the development of self-esteem, leadership, and respect for others. As a school for girls, Dana Hall provides female students with a particularly advantageous environment for both education and self-development.
Raya Wael Husami
Dana Hall School – 2015 Recipient
Raya describes herself as "a proud Muslim Jordanian Feminist Advocating for Education, Peace, Equality, and Justice for ALL."Leadership, service, and diversity are of the greatest importance to her. Raya was inspired, in particular, by two leadership training experiences: the National Association of Independent Schools' Student Diversity Leadership Conference and The Girls Summer Leadership Program (GSLP) at Dana. Encouraged by her mentors at GSLP, Raya served as a mentor herself in the program. Raya's interest in service is evident in her long-term involvement with Cradles to Crayons. Cradles to Crayons supplies clothing and toys to children who are homeless or living in low-income situations. As a Teen Corps Leader, Raya led volunteer groups as they sorted items and filled orders.  Raya also served as one of the All-School Co-Presidents at Dana.
Outside of Dana, Raya's love of math led her to participate in Women in Science and Engineering (WiSE) at MIT. Through the program, she worked on a variety of hands-on projects and learned about professions in science and engineering. Raya also interned with the Microfund for Women in Jordan. She witnessed firsthand both the positive impact and the limitations of microfinance. Raya feels that although microfinance moves women forward economically, access to education and leadership training will help women move ahead socially. Raya hopes to establish a leadership training program, modeled on the GSLP at Dana, for girls in Jordan.  She used part of her grant for an intensive Arabic Course at the University of Jordan.
Finalists
Susanna Elizabeth Mahuras
Gayatri Maria Schur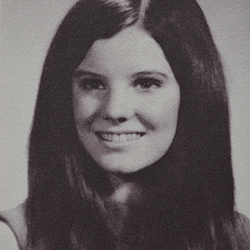 I remember Fitzie as one of the most sparkling, vivacious and happy people I have ever known.
She was happy-go-lucky in spirit but very directed towards excellence in the things she chose to pursue. She was aware of what the ideal should be and then stretched her capabilities to the fullest, enjoying the stretch as much or more than the success.
Fitzie was a real hack. She was always laughing and clowning around. I remember the way she laughed the best because it always made me laugh and the way her eyes would light up when she'd just thought of something crazy for us to do.
We remember her special skills of grace and beauty on the ice. We marveled. We were proud of her and proud that she belonged to Dana.
We remember wondering how Fitzie could "do it all"-the relentless pressure of 5 a.m. skating practices, top grades in the toughest courses and never asking for special permission to cut classes or required school activities. We remember wondering how she could have such a talent for joy.
Fitzie was not a clique or exclusive group person. She was never associated with one group of girls at Dana, but was friendly with several different groups.
Fitzie was a leader-whether in writing the class song or poem, being unanimously elected Day Student President or just being there to look up to…The Dana Hall Honor Roll was posted at the end of each semester and I remember always seeing Fitzie's name on either High Honors or Honors.
Over the years I gained total respect for Fitzie. At ages when one is often jealous of a peer's accomplishments, Fitzie earned respect. She was able to juggle skating and school seemingly effortlessly. It is only now that I realize how really hard that must have been.